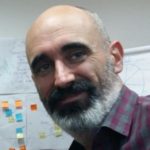 Enric Senabre Hidalgo works at Dimmons as PhD candidate connecting collaborative research practices with design thinking methodologies and agile frameworks. He's currently Research Fellow at CECAN, University of Surrey. Previously he was an active member of Platoniq collective, co-founder and project manager at the platform Goteo.org for civic crowdfunding, where he specialised in facilitating collaborative knowledge management, learning methodologies and co-design strategies for civic impact. He has been vice-president of the Observatory for CyberSociety, project manager of the Innovation and the City Area at Citilab-Cornellà, and associated professor of software studies at the Open University of Catalonia, where he holds a Master's Degree in the Information and Knowledge Society. He's a certified Scrum Master by the Scrum Alliance, a facilitator role he has been implementing for different international projects, like Europeana Creative or the Connected Action for the Commons network (European Cultural Foundation). 
@esenabre // Personal website // esenabre [at] uoc.edu
PUBLICATIONS
Senabre, E., & Fuster Morell, M. (2018). Match-Funding as a formula for crowdfunding: a case study on the Goteo.org platform. Proceedings of the 14th International Symposium on Open Collaboration, OpenSym 2018, Paris. Association for Computing Machinery (ACM) Digital library SIGSOFT Software Engineering Notes. (Forthcoming).
Garriga, M., Gómez-Fontanills, D., Senabre, E., & Fuster, M. (2018) Collaborative Online Writing and Techno-Social Communities of Practice Around the Commons: The Case of Teixidora.net in Barcelona. Journal of Peer Production (11). https://goo.gl/C37h17
Fuster-Morell, M., Carballa, B., Smorto, G., Espelt, R., Imperatore, P., Rebordosa, M., Rocas, M., Rodríguez, N., Senabre, E. & Ciurcina, M. (2017). Multidisciplinary Framework on Commons Collaborative Economy. (Deliverable D2.1 DECODE Project – Decentralised Citizens Owned Data Ecosystem H2020–ICT-2016-1). https://desk.dyne.org/s/l9lMbexVEDzHEks
Senabre, E., Ferran-Ferrer, N. & Perelló, J. (2018) Participatory design of citizen science experiments. Comunicar, 54. https://doi.org/10.3916/C54-2018-03
Developing a research co-design toolkit: a citizen science case study (2017), Proceedings of the REDO Cumulus conference. http://cumuluskolding2017.org/proceedings/
Goteo: Crowdfunding to build new Commons (2015), in Patterns of Commoning, Off the Commons Books, Massachusetts. http://patternsofcommoning.org/goteo-crowdfunding-to-build-new-commons/
Methodologies of open co-creation around digital culture (2015), white paper for Europeana Creative. https://goo.gl/jCVusd
Online Creation and the Wikipedia Community (2012), in Acción comunitaria en la red, Graó Publishers, Barcelona.
New dynamics in offline knowledge sharing: when digital culture appropriates the physical space (2009), Observatory for CyberSociety.
Meritocracy and vandalism in Wikipedia (2006), Observatory for CyberSociety.
Collaboration in development of free software (2005), Observatory for CyberSociety.