La desconfianza en el modelo económico extractivo dominante está creciendo. Empresas de mano de obra en el denominado "consumo colaborativo" como Uber han sido criticadas por operar ilegalmente, así como por la eliminación de valores democráticos tales como la responsabilidad, la dignidad y los derechos de los trabajadores. Partiendo de varios ejemplos, Trebor Scholz describe en su reciente obra y en sus intervenciones en foros y debates el concepto de lo que él denomina "cooperativismo de plataforma", desde un Internet basado entre otras cosas en la propiedad procomún y la gobernabilidad democrática.

Desde Dimmons hemos querido aportar nuevamente, tras la organización de las jornadas Procomuns en Marzo de 2016, al debate generado en torno a diferentes interpretaciones y prácticas de la economía colaborativa (un ámbito incipiente de estudio y análisis para la generación de políticas públicas), con la traducción al castellano y difusión de su ensayo Cooperativismo de plataforma, acompañado de una serie de encuentros que permitan dialogar con el autor y contrastar ejemplos y puntos de vista:
ENCUENTROS
Vídeo de la sesión (para seleccionar inglés o traducción a castellano, usar el balance de audio izquierda o derecha en la confirgiración del ordenador):
RECURSOS RELACIONADOS

SOBRE EL AUTOR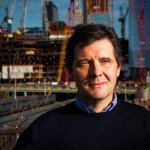 Trebor Scholz es investigador-activista y profesor asociado de Cultura y Medios de comunicación en The New School de Nueva York. Su próximo libro Uber-Worked and Underpaid. How Workers Are Disrupting the Digital Economy (Polity, 2016) desarrolla un análisis de los retos planteados por la mano de obra digital y profundiza en el concepto de cooperativismo de plataforma, como una manera de unir los movimientos peer-to-peer y cooperativo con los marketplace en línea, centrados en la propiedad comunitaria y la gobernabilidad democrática. También es autor de Digital Labor: The Internet as Playground and Factory (Routledge, 2013), and Ours to Hack and to Own: Platform Cooperativism. A New Vision for the Future of Work and a Fairer Internet (con Nathan Schneider, O/R, 2016). En 2009, Scholz comenzó a convocar la influyente serie de conferencias sobre trabajo digital en The New School. Actualmente es conferenciante habitual en foros sobre el futuro del trabajo, la solidaridad e Internet junto a especialistas en medios, abogados, activistas, diseñadores, desarrolladores, líderes sindicales y políticos de todo el mundo. Sus artículos e ideas han aparecido en medios como La Nación, The Chronicle of Higher Education, Le Monde y The Washington Post.