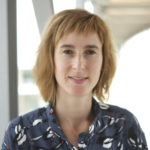 Maura Lerga Felip works at Dimmons as research editor and assistant. Her career has mainly developed around social research and consultancy, following her background in sociology, public management, and anthropology. She is also experienced in edition and proofreading. In the field of research, she has long experience in the academic arena. She has worked on several projects of the Universitat Oberta de Catalunya and of the Universitat Rovira i Virgili, but also for other institutions, carrying on fieldwork, data analysis, content management and publications. Her recent papers are related to Wikipedia uses in higher education and science. In the field of consultancy, she has expertise in working with the Catalan public administration, mostly the Diputació de Barcelona but also for other public institutions, in projects related to strategic planning and policy development.
LinkedIn // mlergaf [at] uoc.edu
PUBLICATIONS
(2018). 

Wikipedia in academia as a teaching tool: from averse to proactive faculty profiles.

 

(2017). 

"Semi-automatic generation of a corpus of Wikipedia articles on science and technology". 

El Profesional de la Información. 

Núm. 5, 

Pàg. 995-1005. 

ISSN.1386-6710.

 DOI: 10.3145/epi.2017.sep.20.

 

(2017). 

"Explaining Teaching Uses of Wikipedia through Faculty Personal and Contextual Features". 

Online Information Review. 

Núm. 5, 

Pàg. 728-743. 

ISSN.1468-4527.

 DOI: 10.1108/OIR-10-2016-0298.

 

(2016). 

"Factors that influence the teaching use of Wikipedia in Higher Education". 

Journal of the Association for Information Science and Technology. 

Núm. 5, 

Pàg. 1224-1232. 

ISSN.2330-1635.

 DOI: 10.1002/asi.23488.

 

(2015). 

"Wikipedia at University: what faculty think and do about it". 

Electronic Library. 

Núm. 4, 

Pàg. 668-683. 

ISSN.0264-0473.

 DOI: 10.1108/EL-12-2013-0217.

 

(2013). 

An empirical study on faculty perceptions and teaching practices of Wikipedia. 

A: Augier, M., Ciussi, M. 

Proceedings of the 12th European Conference on e-Learning, ECEL 2013. 

Sonning Common, Oxfordshire: 

Academic Conferences Limited Reading. 

Pàg. 258-263. 

ISBN. 978-1-909507-84-5

 

(2013). 

Wikipedia in Higher Education: an Empirical Study on Faculty Perceptions and Practices. 

A: Candel , I., Gómez, L., López , A. 

EDULEARN13 Proceedings: 5th International Conference on Education and New Learning Technologies. 

BARCELONA: 

The International Association for Technology, Education and Development (IATED) . 

Pàg. 4269-4275. 

ISBN. 978-84-616-3822-2

 

(2013). 

Anàlisi de freqüències de l'enquesta al professorat de la UOC. Informe preliminar.