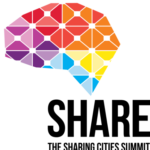 We are co-organising  the Sharing Cities Summit Barcelona 2018, which will take place in Barcelona on 12 November 2018. This edition follows on from the Sharing City Summit held in 2017 in NYC, and the City2City Conference of Amsterdam in 2016.
The event will gather together Mayors and Deputy Mayors from leading cities from around the world to discuss how the continuous growth of sharing economies affect the life and economic development of the cities, and what innovative measures can be taken to meet the challenges and opportunities we face, such as how to differentiate digital platforms which are not constructed on truly collaborative models.
This year's Summit will focus on boosting concrete commons outcomes and collaboration between cities. It will take place the day before the start of the Smart City Expo World Congress (SCEWC), 13-15 November, which will include a dedicated space for the "Inclusive and Sharing Cities" topic, in both Congress and Exhibition Areas. With an attendance of over 700 cities, it will be a unique opportunity to reach out to other cities, spread a common message, and share the tangible outcomes of the Summit. For more info and updates about the program, you can visit the summit website.
The Sharing Cities Summit Barcelona 2018 is a collaborative effort co-organised by the City Council of Barcelona and Dimmons, with the support of Amsterdam and New York and with the collaboration of BarCola members (Barcelona local sharing ecosystem), as well as international sharing actors such as Sharing Cities Alliance and Shareable.