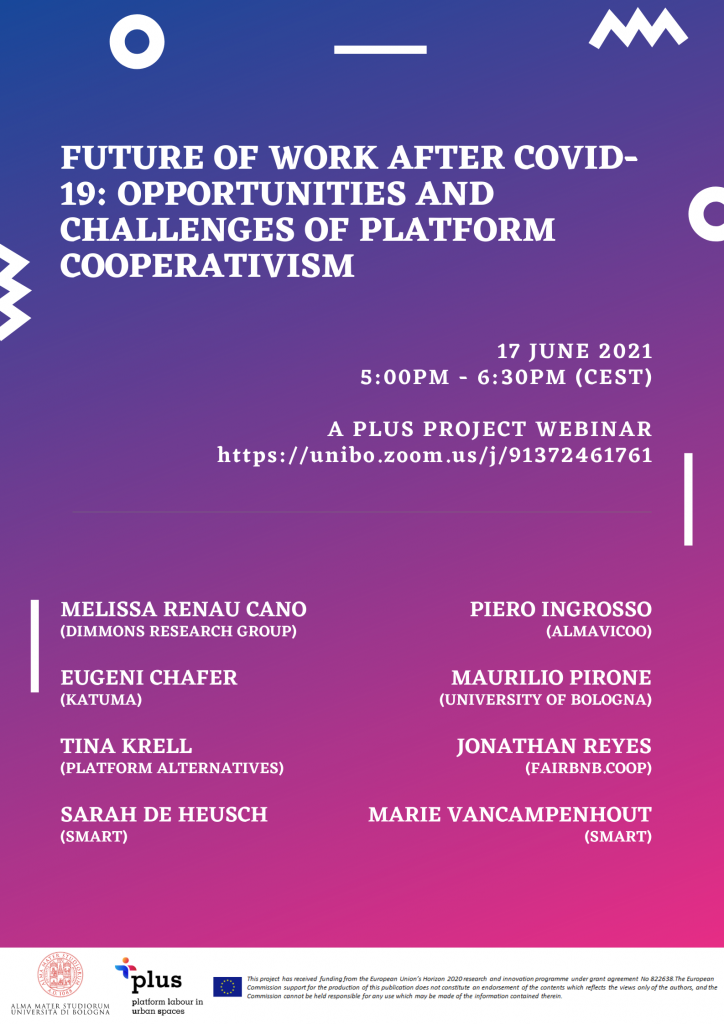 17 JUNE 2021
5:00 – 6:30 PM
Webinar link: https://unibo.zoom.us/j/91372461761
Meeting ID: 913 7246 1761
Participants:
Melissa Renau Cano (Dimmons Research Group)
Eugeni Chafer (Katuma)
Tina Krell (Platform Alternatives)
Sara de Heusch and Marie Van Campenhout(Smart)
Piero Ingrosso (Almavicco)
Jonathan Reyes (Fairbnb)
Maurilio Pirone (UNIBO)
Description of the session:
Future of Work After Covid-19: Opportunities and Challenges of Platform Cooperativism
Current pandemic has triggered a new wave of labour digitalisation. Platforms expanded, from smart working to urban services. In some cases, they assumed the role of essential infrastructures for social reproduction (e.g., food delivery sector). Nevertheless, working conditions still lack improvements in terms of rights and welfare as well as big players are reluctant to establish industrial relations.
At the same time, the research for alternative business models had been stimulated by the expansion of digitalisation and the need for fairer enterprises. Many attempts – both private and public – are taking place to build local and responsible platforms. The cooperative tradition is renewed thanks to the use of digital technologies. Which are the limits such attempts have to overcome? And which are the opportunities for urban stakeholders?
We will analyse general scenarios and practical experiences of alternative business models in platform economy.
Structure of the session:
FIRST PART: 50'
Introduction by UNIBO (5'): Presentation of the PLUS project and aims of the session
Almavicco (10'): They will present their research project related to cooperatives and the demand for digitalisation.
Platform Alternatives (10'): Platform alternatives will present their project.
Findings PLUS project and testing (10'): UOC will present some findings of the PLUS project related to platform cooperatives opportunities and challenges.

Pilots: Katuma, Fairbnb and Smart (5′ each): The idea is that each pilot presents their project, the COVID-19 impact, and basically some results related to the testing.
SECOND PART 35'
In this part of the session, we will hold a debate moderated by Maurilio Pirone (UNIBO) about platform alternatives challenges and opportunities, trying to highlight their best practices, and adopting a more political-oriented approach. Mainly giving reasons why urban stakeholders should promote their emergence and success.
CLOSURE:
The closing is in charge of Unibo who will thank the assistants their participation and detail the future events of the PLUS project:
And PLUS Talks organised by UOC:
7th October PLUS talk pilots. Online from 5pm to 6:30 pm

4th November PLUS talk about care and domestic work. Online from 5 to 6.30pm.
Join the meeting in Zoom:  https://unibo.zoom.us/j/91372461761
17th Jun 2021,  05:00PM-6:00PM (CEST)
———-
Meeting ID: 913 7246 1761
A touch on a mobile device
+13017158592,,91372461761# EEUU (Washington DC)
+13126266799,,91372461761# EEUU (Chicago)
Compose according to your position:
+1 301 715 8592 EEUU (Washington DC)
+1 312 626 6799 EEUU (Chicago)
+1 346 248 7799 EEUU (Houston)
+1 669 900 6833 EEUU (San Jose)
+1 929 205 6099 EEUU (New York)
+1 253 215 8782 EEUU (Tacoma)
Meeting ID: 913 7246 1761
Find your local number: https://unibo.zoom.us/u/ars5ZkVo2